Dubai's New Visa Policy Is The Perfect Reason To Celebrate For Indian Passport Holders
Dubai's New Visa Policy Is The Perfect Reason To Celebrate For Indian Passport Holders
Can I get visa on arrival in Dubai?
Google's answer to this was pretty much 'No' uptil now. Not anymore!
Earlier in March of this year, the UAE Cabinet approved the proposal to grant Dubai visa on arrival to Indian passport holders that have either a valid US visa or a green card when they arrive in Dubai. The enactment came into effect on May 1, 2017.
The decision of Dubai visa on arrival for Indian was made in the light of the long-term strategic partnership between India and the UAE, wherein both nations are working upon promoting political, economic and trade interests between each other. Furthermore, this order strengthens UAE's global status as a tourist and economic hub.
In short, it's celebration time for all Indian wanderers who have a stopover in Dubai. Dubai boasts of the busiest and sexiest international airport connecting most of the major international cities. And now, apart from being a popular stopover destination, it is also one of the many charming retreats that offer Indians a visa on arrival, the likes of which include Mauritius, Maldives, Indonesia, Jordan, Sri Lanka, Thailand, Hong Kong, Malaysia, and more.
Dubai Visa For Indians On Arrival: Keep In Mind
Please note that though this upmarket city will now let you have a visa on arrival for indians, one must, however, keep the following things in mind:
The visa will be valid for 14 days and extendable for a similar period only once
The passport must be valid for 6 months or more
The fee for entry permit is INR 1,750/- (100 Dirham)
The fee for one-time extension of the entry permit is INR 4,365/- (250 Dirham)
With Dubai visa for Indians, It's now all the more easier to explore this glittering, fashionable city with ultra modern facilities, architecture, style, and luxury. It's essentially a dream come true for many! So don't miss this chance vagabonds. And when it comes to exploring this happening city, here's all you should know about a fancy Dubai holida:
Suggested Read: 12 Dubai Museums That Let You Witness The Heritage & History Of The City
Best Time To Visit Dubai
The ideal time to visit Dubai is from November to March. One can explore the best of Dubai in a duration of 5 days 4 nights.
Getting Around In Dubai
There are innumerable fascinating things to do on a Dubai tour. Food lovers, shopaholics, luxury seekers, and beach bums – no one can ever return from Dubai disappointed!
1. Explore The Many Places To Visit In Dubai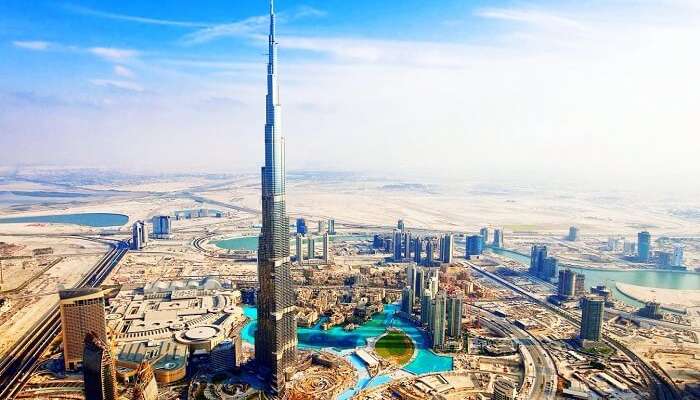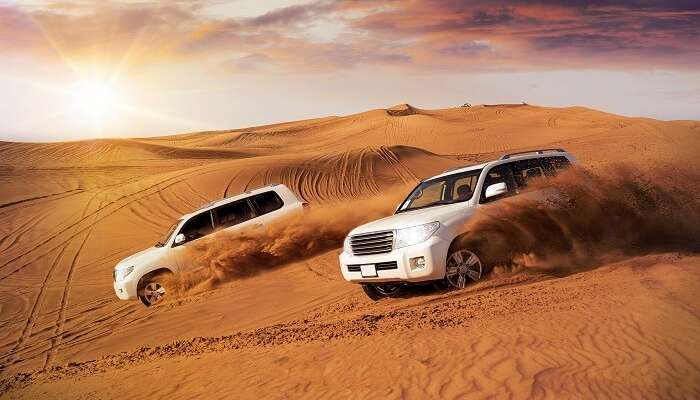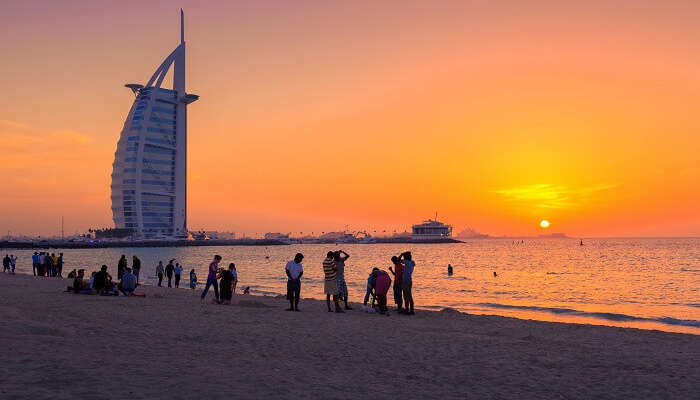 Go swimming in or take an invigorating stroll on the golden sands of the Jumeirah Beach in the backdrop of the world-renowned and ultra luxurious Burj Al Arab hotel.
4. Shop Till You Drop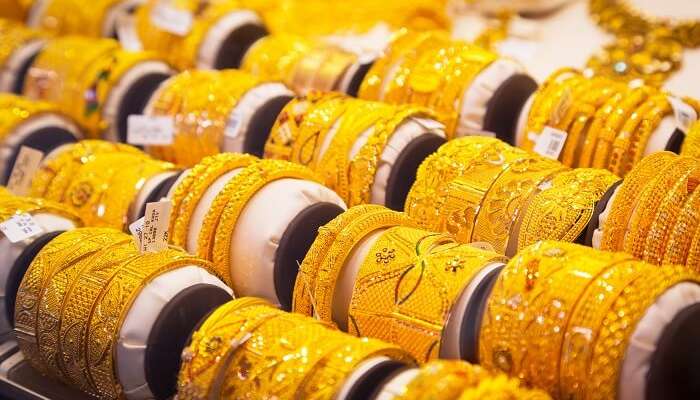 Dubai is home to the most delightful shopping avenues in the world with luxe malls and traditional souks. Buy upscale merchandise from grand shopping malls or grab sparkling gold jewelry, spices, handicrafts, dates, and more from souks in Bur and Deira.
Suggested Read: How To Vacation In The Land Of Sheiks
5. Tame The Skies With A Hot Air Balloon Ride
You think riding magic carpets on the deserts of Arabia is something that only exists in fairytales? Well, Dubai brings it to you for real! Go offbeat on your Dubai vacation with a magical hot air balloon ride over the velvety deserts of the Middle East.
Website
6. Interact With Underwater Beings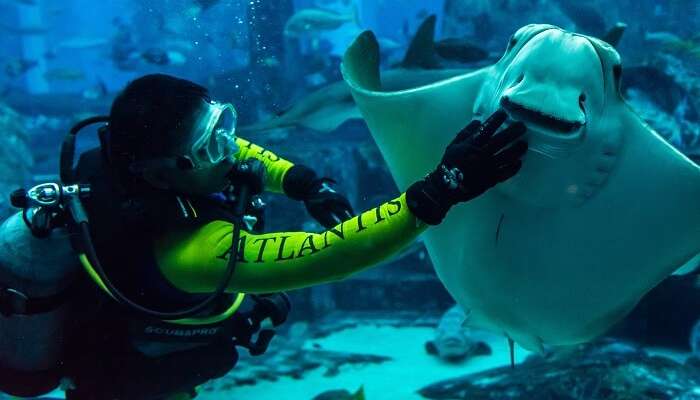 Witness the vivid marine life at the delightful Dubai Aquarium & Underwater Zoo, or take a swim right with them at Lost Wonders in Atlantis hotel for a far more exciting experience.


Best-selling Dubai packages
Desert Safari
Belly Dance
+ 2 More
Dazzling Dubai In A Budget
Per night
₹ 25,804
Cities: Dubai (5D)
Book Now
Desert Safari
Belly Dance
+ 3 More
Extravagant Dubai Tour With Flight
Per night
₹ 48,904
Cities: Dubai (5D)
Book Now
Ferrari World
Desert Safari
+ 3 More
Incredible Dubai Tour
Per night
₹ 28,954
Cities: Dubai (5D)
Book Now
7. Play In The Snow…Yes, You Read That Right!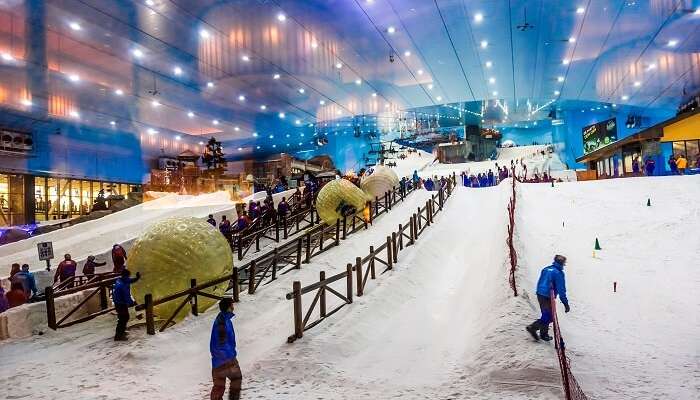 If the heat starts to get on your nerves, you can head to Ski Dubai & Snow Park, an indoor ski park located in the Mall of the Emirates. Engage in snowball fights, go skiing, zorbing & snowboarding on the indoor mountains, play around the giant snowballs, and explore the ice caves while you're here.
8. Enjoy A Sumptuous Buffet On Dhow Cruise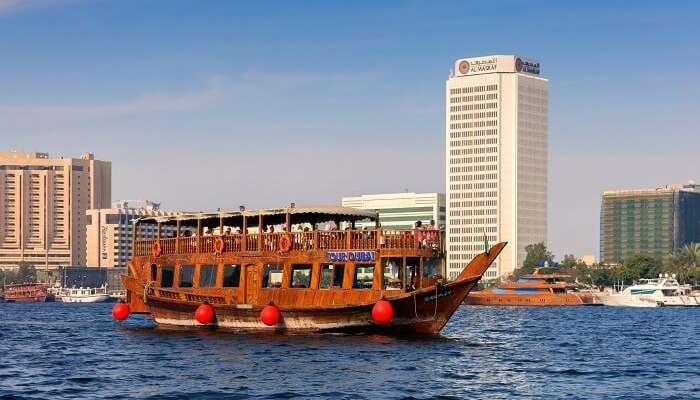 Sail across Dubai Creek on the traditional Dhow Cruise and witness the glittering skyline of the metropolitan while gorging on a delicious dinner buffet on the open-air decks. Complete with sensational performances, lavish cuisines, and stunning views, the Dhow Cruise is an amazing part of Dubai tourism that all visitors must experience.
Suggested Read: The Best Of Top 25 Romantic Restaurants In Dubai In 2020: Dine Like The Royals!
Where To Stay In Dubai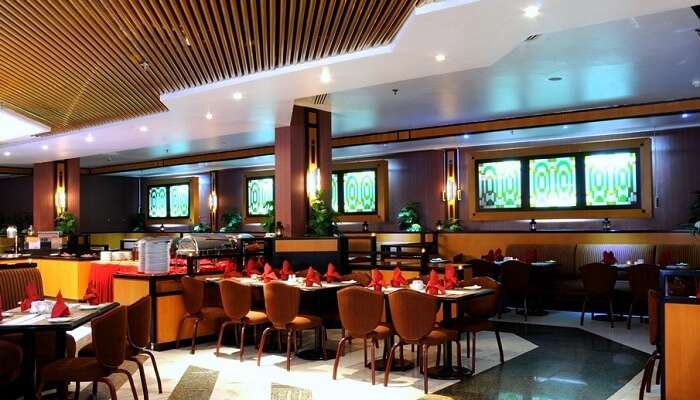 Image Source
Offering easy accessibility to important locations and shopping areas, Admiral Plaza Hotel is an elegant estate with the most comfortable rooms and excellent facilities for guests. Some of these modern amenities include gym, pool, baby sitting, coffee-shop, non-smoking rooms, business centre with conference rooms, banquet halls, spa & sauna, steam bath and doctor-on-call.
Location: Khalid Bin Al Waleed Road, Al Nahda St, Bur Dubai
Room Tariff: INR 2,756/- to INR 8,718/-
Website | TripAdvisor Reviews
Fortune Grand Hotel | 4 star
Image Source
Catering to both business and leisure travelers, Fortune Grand is known around the world for its gratifying hospitality, comfy rooms, and a warm ambience. Other than upmarket facilities and luxe rooms, the hotel also has various in-house restaurants serving the most scrumptious cuisines from around the world. Guests can also access awesome services like gym, beauty salon, nightclub, sauna, business centre, and banquet halls.
Location: Omar Bin Al Khattab Rd 153, Al Muteena, Dubai 98661
Room Tariff: INR 2,115/- to INR 11,795/-
Website | TripAdvisor Reviews
Must Read: Dubai Group Tours: A Smart Choice For The Modern Traveler
Palm Atlantis Hotel | 5 star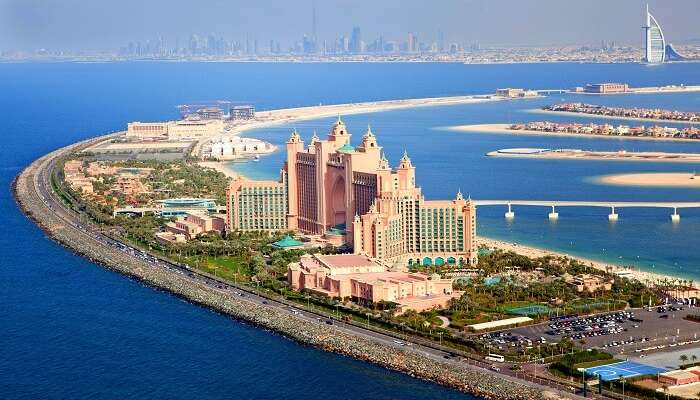 Dubai's crown jewel, the Palm Atlantis Hotel, is the downright majestic 5 star hotel-cum-interactive aquarium-cum-theme park located right in the centre of the crescent of The Palm in Dubai. You may, in fact, remember this hotel from the Bollywood flick Happy New Year where it was featured prominently. Sprawled across an enormous area of 46 hectares, the hotel boasts of an incredible interactive aquarium, amusement park, numerous unique restaurants, bars, lounges, bakery, fitness centre, sauna service, spa, tennis court, helipad, business centre, and banquet halls. The rooms are elegant and tastefully decorated with beautiful aquariums in many, apart from top facilities. The hotel is at a comfortable distance from many attractions like the Jumeirah Beach.
Location: Crescent Road, The Palm, Dubai
Room Tariff: INR 21,474/- to INR 59,295/-
Website | TripAdvisor Reviews
Further Read: 11 Best Things To Do In Beirut For The Perfect Mediterranean Experience
Your dream holiday in Dubai has just turned all the more exciting and irresistible. Why still wait? Make the most of this Dubai visa on arrival policy for Indians for a magical escape to the Middle East.
Frequently Asked Questions About Dubai Visa On Arrival
Q. Can Indian citizens get visa on arrival in Dubai?
A. Yes, but there is a clause to it. Indian passport holders can get visa on arrival in Dubai only if they have a US green card of Uk citizenship. Otherwise, they will have to apply for a visa ahead of their trip.
Q. Do Indian citizens need a visa in Dubai?
A. Yes, Indian citizens need a visa in Dubai. If you have a US, UK or Schengen visa, you may not need a separate visa to enter Dubai. Just simply fill up a form at the immigration counter as soon as you land in Dubai.
Q. How can I get a Dubai visa from India?
A. To apply for a Dubai visa, you will need the following documents:
1. Passport valid for at least six months
2. Photocopy of duly filled application form
3. Two colored photographs
4. Return flight tickets
5. Hotel reservation proof
6. Photocopy of pan card or income tax return
7. If you are a female, you need an NOC from your father or husband.
Q. What is the cost of a Dubai visa from India?
A. A 96 hours visa in Dubai will cost you INR 1770 and 14 days visa which is also the tourist visa that will cost your INR 5690. There is a cancellation charge of INR 2200.
Q. Can I get Dubai Visa on the same day?
A. It takes typically 3 days to get a Dubai visa after your application is through. If you want a Dubai visa urgently, then you can apply for an Express visa.
Q. Can we apply for a Dubai visa online?
A. Yes, you can apply for a Dubai visa online. After booking your Emirates flight, you can follow further instructions and apply for a visa. To get detailed information about the Dubai visa online, you can visit the official website of VFS Global.
Q. Which documents required for the Dubai visa?
A. The following are the list of documents required to apply for a Dubai visa:
1. Scanned copy of PAN card
2. Scanned copy of the first and last page of the passport
3. The passport must be valid for the following six months
4. Passport size photographs with white background
5. A copy of the confirmed return ticket
Q. How much bank balance is required for a Dubai visa?
A. To get a Dubai visa, you must have a minimum balance of INR 50,000 in your account and the same must be maintained for a minimum of the previous four months.
Q. Does the Dubai visa gets rejected?
A. Yes, Dubai visa can be rejected due to the following reasons:
1. If you are a solo female traveler below the age of 24 years.
2. If you are an unskilled professional
3. If you have a criminal record
4. If you have not utilized your previous UAE tourist visa
5. If you had a UAE residence visa and left the country without canceling it
6. If the scanned copies of your details are blurred
Q. Is the marriage certificate required for a Dubai visa?
A. If you are a newly married couple and the spouse name is not mentioned on your passport then you need to submit the following documents:
1. Your marriage certificate or notarized affidavit on a stamp paper
2. NOC from your parents with id proof, wedding invitation card, and Marriage photograph of the couple.
Kanika has 4 years of experience in writing blogs and marketing content for travel. And when she's not writing, she's either exploring new terrains in a different corner of the world, or out in the city freezing urban scenarios in her camera.
Source: https://traveltriangle.com/blog/dubai-visa-on-arrival-policy-for-indians/